Personal Retreats - Just for you!
Is a personal retreat for me?
Joy is a highly-sensitive empath, and through her own experience of finding group retreats a little overwhelming and distracting from her own healing at times, she has created an alternative that offers the kind of experience she herself desired. This kind of setting is perfect for people in a similar position. This could be for you if at least one of these things resonate with you:
- You find it hard to relax when other peoples processes and needs initiate a 'care-giving' response.
- You are self-conscious and find it hard to explore creativity in a group setting, preferring the privacy to nurture those early steps in voice or music or creativity.

- You are a highly sensitive person and want support to work with your system to utilise this gift.
- You desire an experience with more personal attention. Perhaps you suffered from childhood neglect and would like to honour yourself by receiving undivided nurturance and care.

- You have guidance or inspiration for the kind of content you wish to receive at a healing retreat, that is not on offer elsewhere. This is fully customisable, so can be flexible enough to accommodate unusual combinations.
- You have suffered narcissistic abuse and are unsure who to trust when it comes to working with practitioners. Joy has a high level of awareness around this and can facilitate with recovery.
- You want to attend a retreat without having to sit through a lot of things you don't need or already know - preferring to hone in on the areas that you specifically need to focus on.
- You want to fill in gaps in your emotional education, or process emotions that you find difficult to access in group scenarios, but also find difficult to access alone. The one-on-one context with an empathic supporter is ideal for this work.
- You want to discuss spirituality in a way that focussing on your specific concerns and questions, and to learn practices that support your needs exactly.
- You relate to some aspect of Joy's healing journey and want to work with her to achieve similar results, or are attracted by some particular modalities, ideas, instruments, or ways of working available through Joy at Healing Space.
- Something calls you to participate in this retreat. It might be that the reason this is right for you isn't clear, but it can be felt into during the retreat so there is no need to know in advance! If this does resonate in some way, trust your intuition and get in touch!

Your retreat will be designed just for you! Whether your goal is for total relaxation and rejuvenation, creative inspiration, or deeply held healing in an immersive container, Joy will be on hand and attuned to your energy and needs, putting love and attention into curating each detail, while holding space for your retreat under spirit guidance.
Delicious home-cooked food to fit your dietary requirements or a clean eating detox or juice-fast.

Private room with King Size oak 4-poster.

Total flexibility - no other guests but you, and the schedule can flow to suit you.

Choose a "restful" package, which includes 3+ sessions per day, plus time for reflection, for your self-practice, for reading the healing literature here, for taking luxurious baths.

Choose an "intensive" package, which includes longer sessions / more sessions per day. This means less time to yourself, but much more personal attention and the chance to make the most of your time.

Short walk to the river and nature sanctuary, and backing onto a forest, for nature walks.

Super accessible Bristol location with plenty of free parking.
Each day of your stay will include therapies or experiences, orchestrated to allow for progressive deepening and healing on all levels, designed to meet your intentions. Sometimes I will offer retreats working closely with only myself, and where appropriate I arrange sessions with one of a small number of trusted expert practitioners I have worked with closely for several years or more, in other areas of specialism, so that I can offer a broader programme without compromising on quality. This is a co-creation, so if you prefer to work only with me, or to have a number of practitioners teamed up to create the healing you need, you can input your preferences every step of the way.
Therapies and experiences could include:
One-to-one Body Sessions (massage, yoga, chi gung, dance, conscious embodiment, trauma release)

Healing Sessions (hypnotherapy, energy healing, sound healing, theta healing, emotional process work)

Creativity Sessions (musicality, voice, creative opening, art)

Ceremonies (White and Black despachos, Fire ceremony, Cacao ceremony, Guayusa ceremony, enquire for more)

Coaching, Manifestation, Empowerment, Vision boarding
I'm excited to co-create this retreat & support your transformation! You can mention if any of these offerings are exciting to you, and also enquire about things you may not see here.
Use the form at the bottom of this page to enquire and request a consultation to discuss if, and how this can serve your healing needs. Fill in this email box to receive a brochure, which includes a price guide: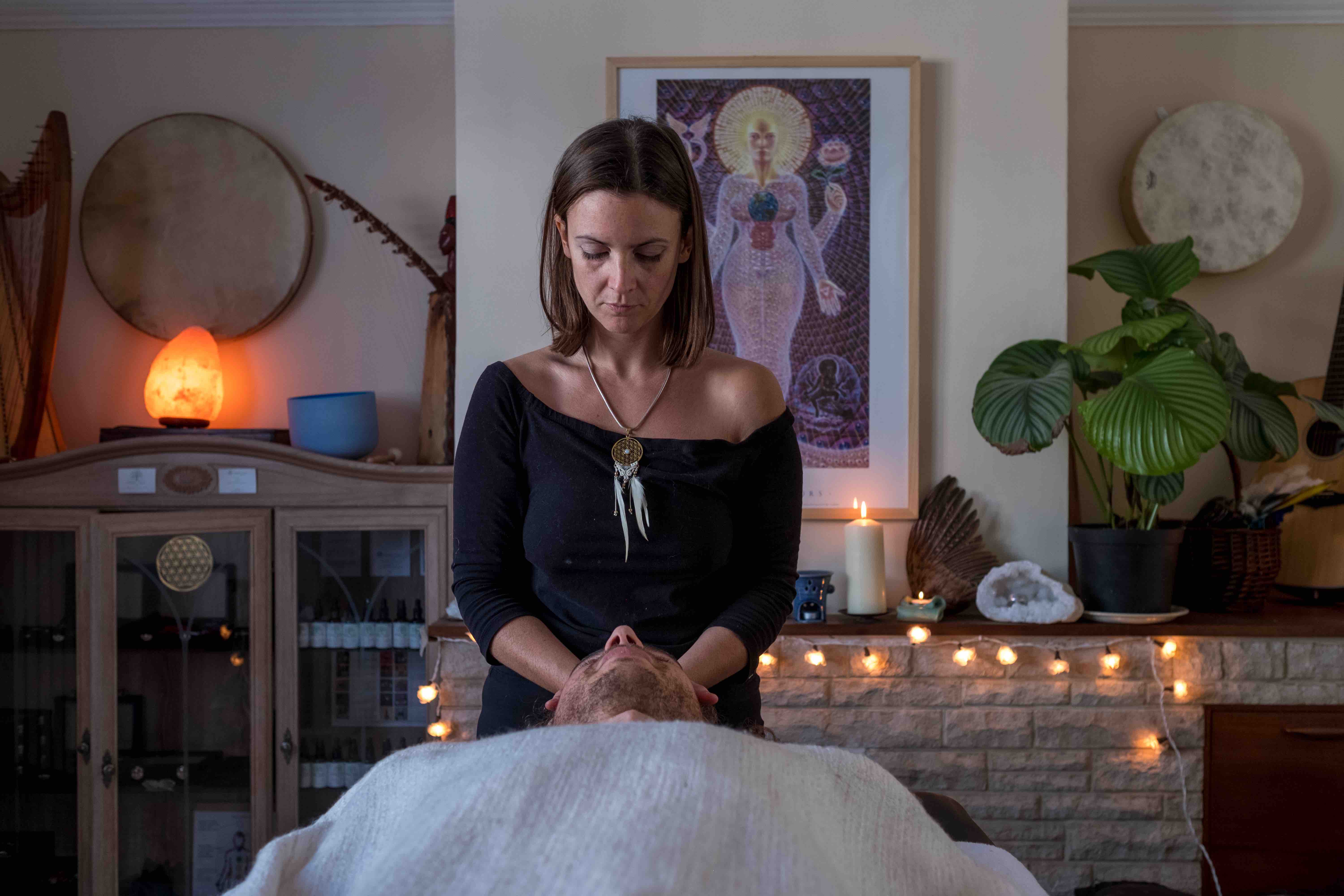 Practitioners available to book as part of your inclusive retreat:
I have only selected to collaborate with practitioners who have demonstrated total integrity and who align with my values. Each of the practitioners I have chosen to work with myself because of their world-class skills and expertise. I am very sensitive and therefore also quite particular about who I work with, so my recommendation is heartfelt and thorough! I would trust each of them with even the most delicate situation and subtle need, and I feel blessed that they are also excited to contribute to the goals of these retreats and support guests at Healing Space.

Joy Lovesey is an empath who will attune to your energy to support every step of your retreat. She offers sessions in energy and shamanic healing, crystal healing, hypnotherapy, emotional process work, creativity, musicality/voice work, creativity, play, and inner child work. She intuitively and skilfully facilitates the healing through the retreat. With a PhD in philosophy, she also loves to discuss spirituality with those who are open-minded and curious to instil deeper under and inner-standing, and to empower people to reach their own truth, self-healing powers, and spiritual connection.

Nic Malin is a musician and healer, who lives at the healing space with Joy. He may be away, or in his own space during retreats on some dates, luckily you can also book Nic for one-to-one Yoga, Chi-Gung, Meditation, Shadow Integration, and I especially recommend him for "Intention Alignment Healing" which is a subtle but deep energetic reset that bring you into alignment, creating balance in your system and synchronicity in your life. Joy loves when Nic is home because of the presence, gentleness, and sensitivity he brings, while allowing guests to feel safe and at home.
"Nic gave me an intention alignment healing which brought me in to such a deep healing space. He and Joy gave me an extended joint healing the next day which was profoundly beautiful." - Bart
"The yoga and meditation with Nick was important in my personal progress with yoga and rectified my previous misconceptions of meditation. Nick explained with such simple transparency that I was able to understand and start to apply its practice, something which I have always failed to do in the past. And I'm very excited to progress even further with my interest of meditation." - Vanessa

Tatanka White Ohitika has over 20 years of professional experience as a UKCP registered psychotherapist, and extensive experience as shamanic healer and Priestess of Avalon. Underlying these skills is a direct channel with spirit gained as the result of a deep spiritual awakening to non-duality, making her energy potent for creating miraculous healing. Tatanka is recommended for deep healings and sacred ceremonies, (including for narcissistic abuse, rape, trauma, and serious disease) and can include aftercare for therapeutic integration when appropriate. Tatanka is also Joy's professional supervisor.
"Tatanka came to hold a healing ceremony night for me. Beautiful channel, adept therapist, powerful healer and clairvoyant. Before seeing her, someone told me "many people call themselves shamans, but this woman is the real deal" - and I concur. Somewhat of a "young elder", Tatanka is someone who truly walks the path, unshakeable in her connection to spirit, and the boundaries of the space she holds. I would trust her with any caliber of process." - Nico (Tantric Practitioner)
Tristan Starling is a musician, healer, and shamanic bodywork practitioner (including Thai massage and other forms of intuitive massage, including soas release). He has impeccable integrity and skill, has a finely honed intuition and expert knowledge of the body and energy system. This allows him to work on all levels of being at once, opening, relaxing, and aligning the body, while simultaneously working on an energy level, often moving between modalities with fluidity to create the deepest healing possible. He is also recommended for gong sessions and sound-healing.

"A somatic therapist myself and in a state of utter depletion, I booked a 3 hour session with Tristan during my retreat with Joy. It was a profound and much needed realignment. Tristan is a kinaesthetic wizard, clean, clear and deep touch, calm and rooted spiritual presence, beautiful work of hands. He was able to work together with me with impeccable attunement when following certain strands of tension and through breath and awareness without unnecessary words. Where I had felt a lot of shame about my state of tension before entering the session, I came out of it feeling freed and in deep peace." - Nico (Tantric Practitioner)

"Tristan gave me a two hour bodywork session. He is an absolute master in what he does and work with such grounded strength, love and sensitivity." - Bart (Spiritual Entrepeneur)
"The two-hour thai yoga massage with Tristan with the gong in the end was luxurious. His mastery of it changed my view on thai massage and I felt rejuvenated afterwards. I felt like the gong was the perfect finish and my body responded to the sound in a way I never expected - a pleasant tingling from my ears to my head to my toes and I felt that I was one with every part of me." - Vanessa (Nurse)

"n all honesty for this review and coming from someone who has never done anything like this before, I initially had a lot of uncertainties about doing the personal retreat. However, it really helped me keeping an open mind and being receptive to new ideas and practices. Joy had instantly put me at ease with her warmth and welcome from the moment we met. Her healing space - from the actual healing room to the beautiful garden - is abundant with positive and calming energy which is exactly what I needed to begin my journey of recovery and healing. Joy has so much knowledge and wisdom on many areas, and she has the gift of connecting at a deeper level that it really helped bring everything together. She dealt not only with the signs and symptoms of my issues but down to its core that I didn't even consciously know existed or was aware of. All the sessions we did I found very helpful. I benefited mostly from the anger release, self love and healing sessions. I was anxious about facing my personal demons to say the least, not knowing if it will work or if I will be successful in the end, and I was! With Joy's help and guidance, I was able to achieve what I came here to do. And it was such a release! Such a moment of clarity, calm and relief. A massive relief! The heavy burden I've been carrying on my shoulders for so long - all my life - is lifted and finally I am free. All in all the whole experience as invaluable. I'm very glad I came to the personal retreat and it helped me break through the walls that was blocking me from living and experiencing life in a positive, more peaceful and harmonious way and for that I am forever grateful to Joy and everyone else at the healing space. It's an ongoing process of healing and I have begun it in the perfect possible way." - Vanessa (Nurse)
"I booked a personal retreat with Joy as I had tried all sorts of talking therapies and felt like nothing had really changed I felt frustrated and stuck. This type of healing is out of my comfort zone but I felt I had nothing to lose as I was fed up of the same negative patterns in my life. I am so glad I went. Joy was so kind, knowledgeable and intuitive to my needs. Despite my anxiety I felt comfortable to ask any questions. The food was delicious and I felt like I was welcomed into a calm space to help me process and move things on in my life. The hypnotherapy session, music healing and anger release work is life changing. If like me you struggle with liking yourself, anxiety and depression and you want to let go of the past to be a better mum/human then do this for yourself and for your children, you won't regret it. I wish for all my friends to receive Joys support, and anyone entering into motherhood it would be invaluable to your families life. Thank you so much Joy, your work is beautiful and inspiring." - Beth (Mother)
"I booked a 3-day retreat with Joy to have a closely held and private space to work through issues of narcissistic abuse, to rekindle my relationship with myself, honour a special moment of passage in ceremony and reconnect with my creative expression. With her warm presence and hospitality, Joy made me feel at home and taken care of as soon as I arrived. Her place is a sanctuary of peace and calm, a true oasis! I loved the garden, our walks in the neighbouring woodland with the little stream, the sauna excursion and her inspiring library. Meals and homemade smoothies were scrumptious treats prepared with just as much love as every other detail. The healing sessions were very nurturing and restorative. Joy has incredible wisdom and insight, and is able to hold space for the most difficult emotional processes, whilst remaining fiercely compassionate and heart centered. She is deeply genuine and generous in sharing of herself and her own experience, and able to reflect from a thoroughly grounded and integrated place. Joy is also a gifted musician and singer, and her music brought in an additional dimension of replenishment, blissful and spheric. Joy's trusted support has been invaluable so far, and I much recommend her work. If you can, gift yourself some time away at hers. It will do you good." - Nico (Tantric practitioner)
"I recently had a retreat with Joy in her beautiful place in Bristol. It was such a rich, diverse and nourishing experience. It was 3 days of total relaxation, deep healing, beautiful ceremonial work, creative expression and gorgeous nourishing healthy food. It was like a total reset! The schedule was designed especially around my needs and I felt such an amount of care and love. Joy has many skills to offer and she was so generous in sharing them. Joy brought in some of her beautiful practitioner colleagues and friends who all shared their beautiful gifts with me. Joy and I did a beautiful ceremonial creative session in which we created a beautiful prayer mandala whilst expressing so many beautiful prayers.It always felt that I could ask for anything and nothing was too much. What a beautiful experience, I highly recommend it!!" - Bart (Spiritual Entrepreneur).

Start co-creating now! Send this form and receive your free, no obligation consultation...